BTO Cribbage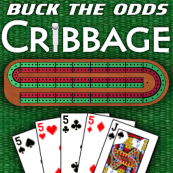 Play cribbage against six levels of computer opponents. Keep detailed stats and have fun as you try to reach 121 first.
Manual counting mode
Game plays in portrait and landscape
Six levels of computer AI, from beginner, intermediate and advance
Detailed stat tracking
Simple and easy to use play area
Challenging and fair (no cheating) advanced AI for good replay
No ads and no personal information collection
Why BTO Cribbage
There are a ton of Cribbage apps that you can download. If you want to play by yourself, then you should spend your time playing against a worthy computer opponent. The other apps have lamebrain opponents, which encourages you to make bad moves. Playing against BTO Cribbage sharpens your skills against a fair, but challenging computer opponent.
Why isn't it free? The free apps available on the marketplace are only free to download. Once you play it, they collect your personal information and/or nag you with meaningless advertisements. Or worse, you have to pay to unlock the good parts of the apps. BTO Cribbage is different. You pay an exceptionally small fee (cheaper than most coffee these days) to download and the app is yours forever. The app works completely offline: zero data is collected about you or your phone. All features of the game are yours, including the Gold AI, which will give you Cribbage workouts for years to come.